work-work-busy-busy-chuff-chuff-bang-bang
But sometimes you're just so busy being busy that you lose sight of what you're trying to achieve.
Weekends are, of course, our busy times. This weekend particularly so, as we had a party upstairs last night, and there's a music session tonight. Should be fun though, as the band, "Slainte Mhath" (pronounced Slaan-je Vaa - it's Gaelic) are a Scots-Irish duo who did a spontaneous session in the pub a few months ago.
I'm not looking forward to the quieter winter months in terms of actual work, as sitting in an empty pub with the TV for company is not my idea of fun, but it will be useful to have some time to think and plan.
Knitting progresses rather faster than I would like, given that it's something I do when the the pub is quiet and I can talk and knit in between serving customers.
From Monday lunchtime: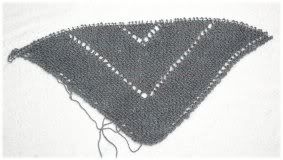 To Wednesday evening:
I do need to get back to Devan (see below for progress to date) sometime soon, and Chantelle is getting very urgent indeed as the cousin it's intended for is due to have her first child within the next month....