Seeing double
The socks are done. Not washed yet, but done, and worn, and I'm almost completely happy with them. I've managed a pair of socks out of one ball of Regia miniringel sock yarn, and about half of a ball of plain black Regia - and for once I've just about got perfectly identical twins.
Details:
Needles:
2mm Inox double-pointed (came in a set of 5, but I'm not fussy about that)
yarn:
Regia mini ringel (I think the colour was called Blue Sea) bought many years ago from
Opitec
, and black Regia bought last year from
Fankle
in Troon.
Pattern:
Shapely secrets by Dawn Adcock, from the Autumn 2003 issue of
Heels and Toes Gazette
Modifications:
I worked at a slightly tighter tension than that given (33 stitches x 50 rows to 10 cm) to give me a snugly fitting sock.
I also worked multiples of 8 rows rather than 10 rows in the early ribbing to give me a shorter sock, and only worked 8 rows before starting the extended heel shaping instead of the given 20. I worked a lot fewer rows after the gusset decreases as I have very short feet to give me only 76 rows from heel flap pick-up to the start of the toe shaping.
I worked my own version of what I think must be a star toe: 5 decrease points decreasing every other round until just over half the stitches have been decreased away, then every row until 5 stitches are left.
The socks fit very well indeed, although I've not actually tried walking around in shoes with them on. It's been far too hot for woolly socks. The extended heel shaping (closeup below) does as promised and reduces the bagginess which can form around the ankle on stocking-stitch socks.
Sadly for me, it also makes it very difficult to get the dratted things on. I have what must be a high instep, and the distance from heel to front-of-ankle must be larger than the designer had allowed for. I can't just pull them on, but must wriggle them over my heel. I'm not sure if the good fit can be seen in the picture below, but even though my foot is at an angle, there is very little excess fabric around the ankle.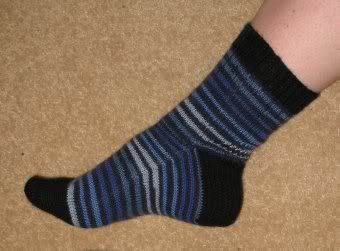 The
pair I knitted for my mother
has yet to arrive (it was sent surface mail), so I'm hoping that she won't have the same trouble putting hers on....