Spring Greens
I really like the effect as the new leaves on the copper beech hedges start to change to their true colour as spring moves on.
Knitting has been progressing, albeit slowly. This weekend was the Jed Sevens rugby tournament, which is our busiest night of the year, and we've both been trying to get caught up with ourselves since then. Socks have become my pub knitting for the moment, which means they're getting done, and nothing much else is - we're very short-staffed just now. Hopefully we'll find the right person or people to take on in the pub soon, but I'd rather spend 12 hours standing behind the bar than employ the wrong person.
Here's the progress on the socks as of last night: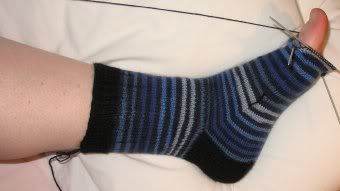 Since then I've finished the toe (I tried my own version of a round toe and will be trying it on this evening) and am working on the toe of the second sock. I was worried about running out of the stripey yarn (I only had one ball) so I worked the socks in tandem.
Not much achieved today otherwise: I was at the funeral of one of my ex-staff this morning, and haven't really felt like doing much since. He was 5 days younger than my sister....