Lovely day
Freezing night.
Amazingly, the under-19 Rubgy sevens competition down at the Riverside today resulted in a truly beautiful spring day. There are a lot of tomato-coloured people walking around this evening. The downside of this is that once the sun went down, it got
cold
. And guess who was outside on bouncer duty from 20.40 to 23.15 this evening?
My fingers have just about thawed, and I have renewed respect for the women who used to stand and knit waiting for the fishing boats to come in. cold fingers = slow fingers.
Here's my progress from 3 hours in the pub, and almost as long again outside.
The pattern is a modification of the one I used for the
Olympic Socks
which is from the Autumn 2003 issue of Dawn Brocco's now discontinued
Heels and Toes Gazette
. The pattern has some clever shaping to help avoid the bagging which often appears above the heel flap, and I want to try a pair for me to see if it works.
Yes, I know I said that I needed to finish something, and here I am starting yet another project. I'm utterly fed up with trying to write up the pattern for
Amy's hat
, and so headed off on a tangent with the socks. I wanted to be able to offer a child size and an adult size using the same yarn, but mucking about with the stitch count has resulted in hats which just look
wrong
. Back to the original plan of using 4-ply for babies and DK for grownups.
Comments
Dawn, thank you for the reassurance. I do sometimes wonder if I'm only using this to remind DH what I've been up to!
Sheep update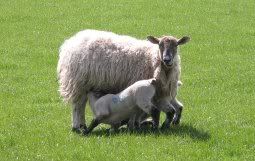 Lunchtime!