More socks
I've found my sewing-up-needles, so the socks are done.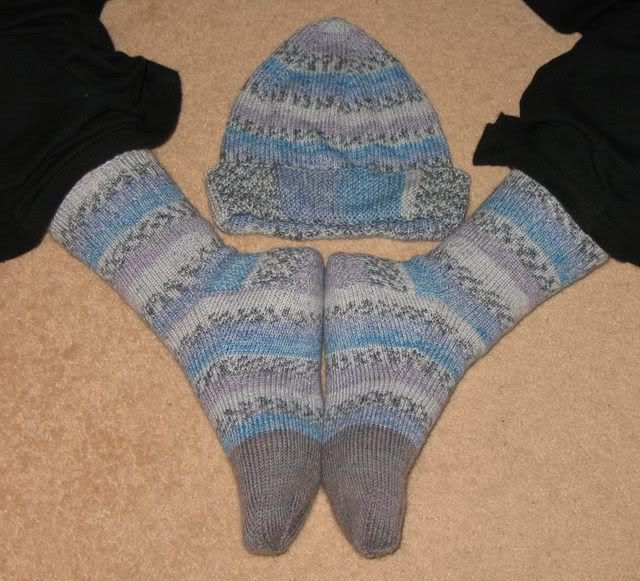 Socka for the most part (a gift years ago), with the toes in St Ives 4-ply. I've misplaced the ball band, but vaguely remember around 50% cotton, 15% nylon and the rest wool for the Socka
I used my now-favourite pattern, but the Socka sock is much less snug than the Regia pairs. If I were to use it again, I'd work the sock on several stitches fewer, and work a shorter foot. I do love the colours, but probably won't use that yarn for socks again. It feels 'thin', and certainly less warm, which would make sense if you consider the cotton content.
I knew I would run out despite having relatively small feet, as last year I knitted a hat from the same 100g ball. I'd decided I needed a hat which was small enough to scrunch into the pocket that wasn't holding my gloves, and this did the trick. I'm really pleased with the pattern: maybe someday I'll even write it up.
Work
Off to Selkirk today for a Food Hygiene course and exam. I came back after 7 hours feeling like I'd been hit in the back of the head with a board. I won't know if I've passed for several weeks, so I'm doing my best to forget it.
Retreat
Still no word from the council's "Event Fieldworker" who is supposed to be assisting. If I don't hear by Monday, I think I'll just have to run with the plan on my own.