Rant
Apologies in advance.
I've just received the new Avon brochure (cosmetics by mail order) and was happily browsing when I came across this: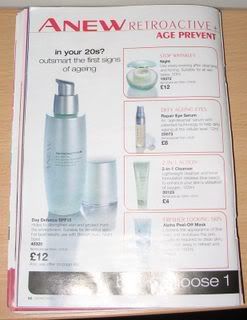 Here's a larger version of the offending bit:
Excuse me? What on
earth
is going on here? Botox for your 21st birthday, anyone?
I'm afraid I'm not particularly coherent about this, but quite frankly if we're to start worrying about getting old-and-wrinkly as soon as we leave our teens, then I think we've got our priorities just a little bit skewiffy.
More simply: I don't want to look like Cher when I'm 60!