What not to wear....
Current fashion dictates knee-length tweed skirts 'town and country' looks etc.
Not for me!
These pictures, as in Trinny and Suzanna, show just why I won't be wearing tweed skirts.
The dress, sadly, was polyester, and was sent back too. The trouser/blouse is my usual work uniform. Below is the only kind of skirt that looks good on me at the moment. Not in the pub, though. There are more than enough drunks who will cop a feel for me to want trousers on if I'm collecting glasses.
Knitting
Not recent, but the last completed item.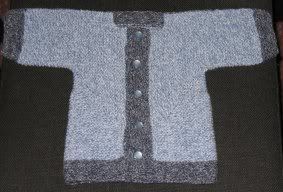 A Baby Surprise sweater (Elizabeth Zimmerman) for my baby cousin in two colours of Sirdar Denim Tweed.