Inspiration
When I was small, and lived in a much warmer country, we used to go swimming in the rock pools. Often, we would see these little creatures: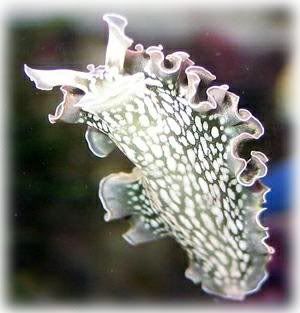 With the discussion on
Jean's blog
about scarves, I was inspired to make this:
From here on known as the 'nudibranch scarf' cos that's what the little beasties are called.
Now, the more astute of you may have noticed that I've started casting off before finishing working the last row. That's because at slightly over 2000 stitches on an 80mm circular needle, even knitting from one circular to the other was just too difficult. So, I took the other end of the ball of wool, and started casting off from the other end of the row I was working on.
Thanks to Jean, I am now picking up stitches along the cast on row to make another ruffle on the scarf. Not friendly on the fingers at all, working with that many stitches (cast on 130 and double 4 times in total) means things get very stiff indeed. I do think it's going to be worth it though.