Sewing again
I decided that after the madness of Christmas Eve and Boxing Day in the pub, I needed a little time for me. After the
blue blouse
woes, I decided to try something a little simpler. I need summer tops, as I don't think T-shirts look particularly professional unless they're under a jacket or similar.
I found this New Look pattern (now out of print) sitting amongst the dust and stour in what was supposed to be my craft room before the renovations got out of hand, so I set to....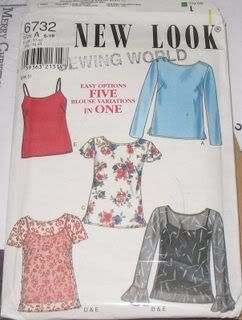 I'm quite pleased with the result, for a first attempt:
The back view isn't as good, partly due to the static, but partly also because it just doesn't fit right. I can't quite figure out why, but suspect it may have something to do with a bum that sticks out, and a waist that goes in....
And yes, I am that lopsided - it's not just the way I'm standing.